Something old, something new … you know the rest.
The saying dictates traditional additions to a bride's wedding outfit for good luck, derived from an old English rhyme. "Something old, something new" usually amounts to wearing or using trinkets to represent vintage and modern, sometimes given by older maternal family figures.
Those two ideas – old and new – don't have to be mutually exclusive, though, at least not if Ylvia Asal is involved in the planning. The Ventnor resident and owner of Anatolia Art & Craft Studio in Atlantic City's Noyes Arts Garage has worked with several clients to transform their maternal heirloom wedding gowns into something for the modern bride.
Much of Asal's work involves lace, the fragile backbone of many wedding dresses. She handstitches necklaces, earrings and other wearables, a technique she said she learned starting when she was about 12 in arts and crafts school while living in Turkey.
"To many people, lace and weddings are natural," she said, sitting at her worktable in her craft studio. In the front of her studio is her own wedding dress from her third ceremony – Asal said she's now divorced – which she said she keeps on a mannequin to bring in potential bridal clients.
To emphasize her point, she plucks a small plastic bag from a drawer, filled halfway with snippets of white fabric filigree. Though microscopic, she points out differences in the three separate designs, indicating they're from three different dresses.
Those three dresses belonged to Laura Elko – her married name – her mother and her grandmother. Elko got to know Asal's work from her trips to the crafter's former Ventnor shop while visiting the shore.
Elko, who now lives in West Chester, Pennsylvania, knew she wanted to incorporate at least her mother's dress somehow into her 2012 ceremony. She approached Asal with her mom's dress, pieces of it yellowed with age, and asked if there was anything she could do.
There was: Asal trimmed the neckline of Elko's mother's high-necked dress to turn it into a V-neck. Shortening the dress to a summer-dress length got rid of any yellowing Asal said she couldn't get rid of by hand-washing the dress with shampoo.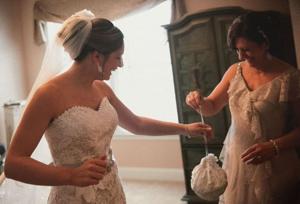 Picture:blue bridesmaid dresses
"I was always interested in wearing my mom's dress, but there was really nothing I could do with it," Elko said. " I wanted to surprise (my mom) so I wore it for the second half of my wedding, too."
Once Elko knew Asal could make the shorter dress, she came back with scraps from the other dresses. Asal made them into bracelets for each of the three women, fastened by buttons from the grandmother's gown, which they all wore at the rehearsal dinner.
Elko's bridal party also wore lace necklaces by Asal, though not recycled from any dresses.
Repurposing old matriarchs' dresses has taken off, Elko said, at least in her group of friends.
"It definitely started a trend. My friend's sister ended up taking her mom's dress as a rehearsal dress, and so did another distant friend of mine, and my cousin," she said. "I think it just means more than buying everything new."
Recycling materials for weddings has become a trend Victoria Rudden has seen more and more of lately. The event coordinator for Rock the Aisle Bridal, based in Eagleswood Township, said at least one or two vendors in each of their bridal expos and shows focus on vintage.
Most of the time, she said, repurposing goes into table centerpieces or placeholders, but she has seen some businesses reusing vintage dresses in some way.
"I think it's unique, it's one of a kind and not so generic," Rudden said. "You get somethign that no one's really going to have."
Asal said she's only repurposed a couple other clients' dresses since Elko's ceremony. Another woman got seven pillows for her grandchildren out of her mother's old wedding dress.
"I used to go to my attic and pick up old things from my family," Asal said. "I am going to the past, and I'm bringing it to the future."
Read more at:sheinbridal cheap wedding dresses